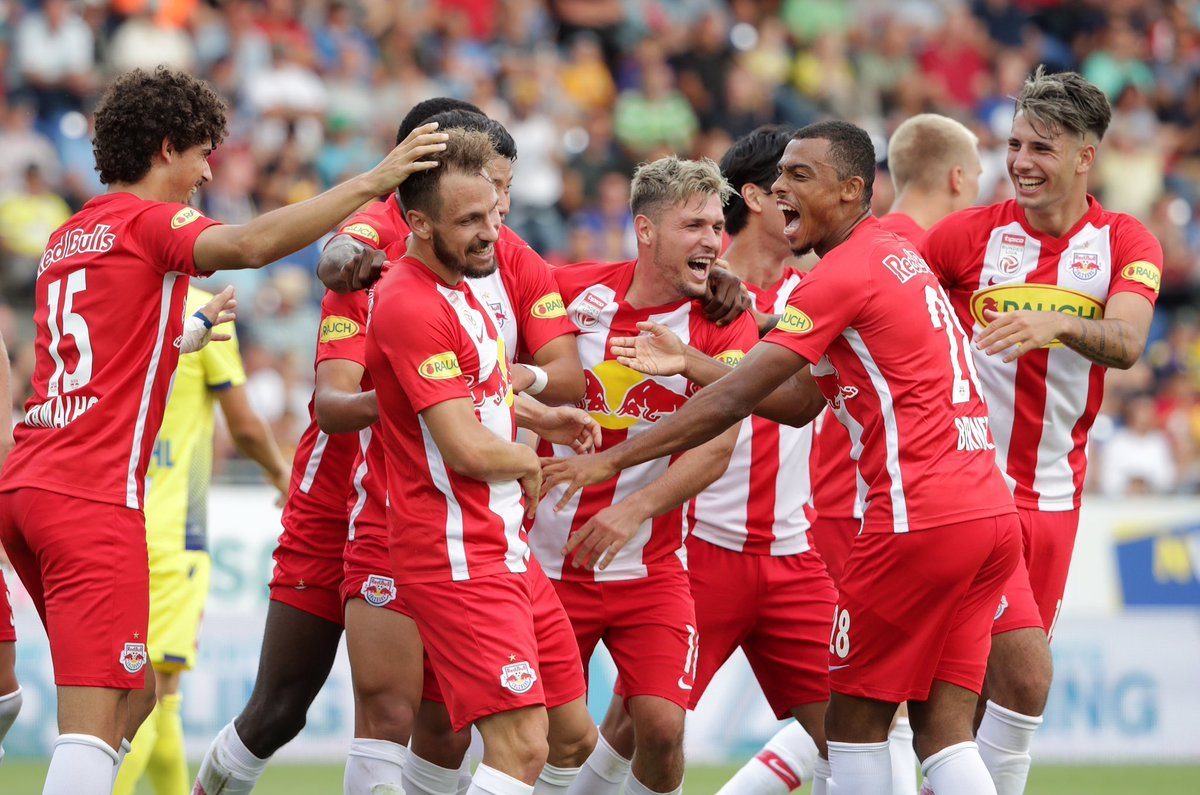 Sprawdź nasz typ dnia na mecz Sturm Graz – Salzburg, rozgrywany w ramach austriackiej Bundesligi, w środę 27 kwietnia 2022 roku, o godzinie 18:30.
Sturm przystępuje do tego starcia po wyjazdowym remisie 1:1 z Rapidem Wiedeń.
W dość pasywnym spotkaniu gospodarze zdołali objąć prowadzenie z rzutu karnego wykonanego przez Sarkarię w 75 minucie, ale od 82 minuty musieli grać w osłabieniu po czerwonej kartce dla Wuthricha i stracili prowadzenie w ostatnich minutach spotkania.
Sturm jest obecnie na 2 miejscu w tabeli i prawdopodobnie utrzyma się na tej pozycji do końca sezonu.
Gospodarze nie mogą skorzystać z zawieszonego środkowego obrońcy Wutricha (28/4) i defensywnego pomocnika Gorenca Stankovica (28/4). Środkowy obrońca Geyrhofer (12.0) jest kontuzjowany.
Obecnie będąc mocnym liderem w tabeli, bez poważnych zagrożeń dla ich pozycji, można śmiało powiedzieć, że Salzburg zasłużenie podniesie trofeum w tym sezonie w austriackiej Bundeslidze.
W poprzedniej kolejce, udowodnili swoją zdecydowaną wyższość nad drużyną Austrii Wiedeń pokonując ich 5:0 w meczu domowym.
Gospodarze zdobyli trzy gole podczas pierwszej i dwa kolejne w drugiej części meczu, wyglądając na dość pewnych siebie i nie pozostawiając rywalom wątpliwości kto był lepszy na boisku.
Defensywny pomocnik Kamara (22/1) jest zawieszony. Kontuzjowany jest lewy obrońca Guindo (7/0), podobnie jak defensywny pomocnik Diakite (13/2) i pomocnik Bernede (16/0). Pomocnik Capaldo (26/3) nie jest pewny występu..
Sturm Graz vs Salzburg H2H
13.03.22 Salzburg vs Sturm Graz 1:0
24.10.21 Salzburg vs Sturm Graz 4:1
23.07.21 Sturm Graz vs Salzburg 1:3
09.05.21 Sturm Graz vs Salzburg 1:3
04.04.21 Salzburg vs Sturm Graz 3:1
Obie drużyny są już niemal pewne swoich pozycji na koniec sezonu, ale to nie znaczy, że powinniśmy oglądać ich defensywną grę.
Jeśli już, to Sturm powinien być zdeterminowany, aby pokazać, że sprosta takiemu zadaniu, jak granie z najsilniejszą drużyną austriacką, tymczasem goście i tak mają jakość, aby strzelić kilka bramek w tym meczu.
| | | |
| --- | --- | --- |
| DATA, GODZINA | NASZ TYP | KURS W LVBET |
| 27 kwietnia, 18:30 | BTTS (co to jest?) | 1.61 |